«

All

furnaces
slp99v
Variable-Capacity Gas Furnace
The quietest and most efficient furnace you can buy
Energy Star®
ENERGY STAR
®
Qualified
Warranty
Dave Lennox Signature® Collection models come with a 10-Year Limited Warranty on covered components. Furnace heat exchangers offer either 20-Year or Lifetime Limited Warranties. For more information, visit www.Lennox.com/WarrantyYourWay.
View Full Product Specifications
Heating Savings
Features
The Ultimate Side of Perfect Air
Not only is the SLP99V gas furnace part of the Dave Lennox Signature® Collection, it's part of the Ultimate Comfort System™. Which combines the best of everything Lennox has to offer to create an unprecedented whole-home comfort system that seamlessly and intelligently works together to stay finely tuned to your home and deliver consistently clean, perfect air.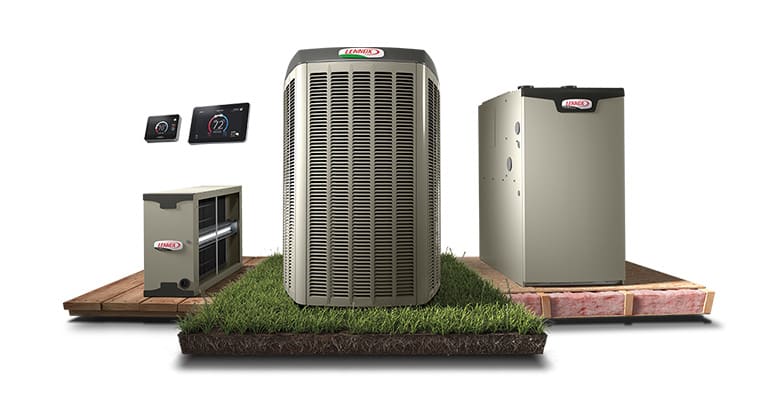 Smarter Together
With the help of the iComfort® S30 ultra smart thermostat, the SLP99V gas furnace unlocks a world of connectivity. It stays finely tuned to your home by using sensors to react, diagnose, and troubleshoot—all while remaining in constant contact with your dealer to ensure proactive responses. Geofencing technology ensures your air turns on and off as you come and go. And the system even responds to the outdoor environment to adjust operation to account for factors like pollen and outdoor air quality.
Beyond Quiet
Even with all of its impressive power, this furnace is the quietest you can buy and has been engineered to run at variable speed to drastically minimize the sound of air kicking on or off inside the home.
Ratings & Reviews
See what other customers are saying about
SLP99V Variable-Capacity Gas Furnace
Soooo quiet!!!
November 23, 2023
Installed this furnace in my last home and will put it in my new home. Most of the time i didn't know it was on, especially when there was other noises in the house. I could here the external condensate pump more often then the furnace. Highly recommend!

Yes, I recommend this product.
BigLogan
Royston BC
Age: 45 to 54
Gender: Male
Reason for Replacement: Planned
Quiet efficient
October 27, 2023
Weeks ago my old Lennox 2008 40 series, single stage, was having issues and replaced it with a 96% Carrier, variable two stage. Then, the horror! 70 Db heat sounds 3d floor as the ignition sounded like a crematorium flame. 70 db, then had them removed it. Enter the Lennox SLP99 it is so quiet you think it being turned off. I hear faint highway traffic from 3-4 kms away. Paired with the S40,- the S40 has quirks and deficiencies, but not enough to detract from this furnace. Several nights now, I slept without ear plugs! nothing! Efficient, it circulates the air. Note I am not paired with a heat pump. Ironically it is only 1000 more than the 96% efficiency Lennox version.

Yes, I recommend this product.
Belisarius
Ottawa
Age: 45 to 54
Gender: Male
Reason for Replacement: Planned
Quietest furnace I have ever lived with
September 06, 2023
Our local dealer told me this furnace would be quiet. I joked that my existing furnace is not noisy. I guess it was, because I woke up 3 times the first cold night because I did NOT hear my furnace running. Apparently I was accustomed to the noise of my old furnace. Aside from all that, this furnace keeps my house sooooo much more comfortable than it used to be. The S30 thermostat is absolutely wonderful to use and look at. The weather screen savers are simply stunning. Thank you, Van Haaften Plumbing & Heating!

Yes, I recommend this product.
Dutch guy
Pella, Iowa
Age: 45 to 54
Gender: Male
Reason for Replacement: Used home purchase
Get answers from a Lennox® Dealer.
It's easy to find an expert Lennox Dealer who can help you make the most of your HVAC system.
View Now
Products that add to the performance of
SLP99V Variable-Capacity Gas Furnace
*

Based on sound pressure levels during steady-state, high-fire and low-fire operation of Lennox® SLP99UH070XV36B as of March 2020 at mid-point temperature rise and minimum external static pressure when set up per Section 4.4.4 of AHRI 260-2012. Based on AFUE efficiency rating of Lennox SLP99UH090XV60C and leading competitive units listed in AHRI directory as of December 2019. Efficiency ratings established per test standard ANSI/ASHRAE 103-1993.
Energy Star
Proper sizing and installation of equipment is critical to achieve optimal performance. Split system air conditioners and heat pumps (excluding ductless systems) must be matched with appropriate coil components to meet ENERGY STAR criteria. Ask your contractor for details or visit www.energystar.gov.