«

All

furnaces
slp99v
Variable-Capacity Gas Furnace
The quietest and most efficient furnace you can buy
Energy Star®
ENERGY STAR
®
Qualified
Warranty
Dave Lennox Signature® Collection models come with a 10-Year Limited Warranty on compressor and covered components. Furnace heat exchangers offer either 20-Year or Lifetime Limited Warranties. For more information, visit www.Lennox.com/WarrantyYourWay.
View Full Product Specifications
Heating Savings
Features
The Ultimate Side of Perfect Air
Not only is the SLP99V gas furnace part of the Dave Lennox Signature® Collection, it's part of the Ultimate Comfort System™. Which combines the best of everything Lennox has to offer to create an unprecedented whole-home comfort system that seamlessly and intelligently works together to stay finely tuned to your home and deliver consistently clean, perfect air.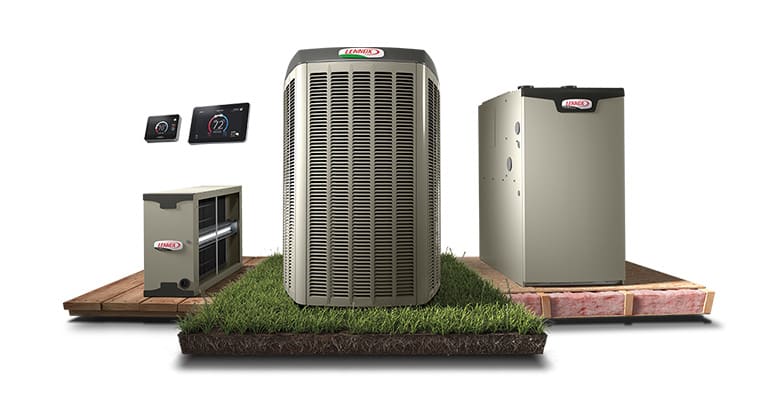 Smarter Together
With the help of the iComfort® S30 ultra smart thermostat, the SLP99V gas furnace unlocks a world of connectivity. It stays finely tuned to your home by using sensors to react, diagnose, and troubleshoot—all while remaining in constant contact with your dealer to ensure proactive responses. Geofencing technology ensures your air turns on and off as you come and go. And the system even responds to the outdoor environment to adjust operation to account for factors like pollen and outdoor air quality.
Beyond Quiet
Even with all of its impressive power, this furnace is the quietest you can buy and has been engineered to run at variable speed to drastically minimize the sound of air kicking on or off inside the home.
Ratings & Reviews
See what other customers are saying about
SLP99V Variable-Capacity Gas Furnace
Changed furnace and AC proaktiv After 25 years
November 20, 2022
We live in Ontario Canada, bought the house in2016. Until last week we still had the original furnace and AC,which were 25years old. Since this is our for ever house we wanted something good. Lennox is one often top units around and went onto Lennox web page and they connected us with Guaranteed Comfort Windsor. Matt came out to quote the job and he did three different options, which I compared with 10 other quotes. Decided 2weeks later and did the purchase furnace SLP99 and 16axc merit two stage AC. Six days later the installation team Matt and Stephan were at my house to install. Great guys, very knowledgeable, followed the installation guide ! Very important to me. We Hartley know they were there and they were clean. The total installation was a once of art!, I thought the guys installed their own equipment. They even went the extra way and mad a metal pocket for the manual's. After everything was done started the system had small issues with the S30 but a couple of phone calls cleared it all away. Did the debugging found one wire was wrong for humidifier, swapped it and all good. System was running we did not hear anything quite and the tem in the house started getting even all the way around. We use to have it set to 74 now we are at 71 and have the same comfort level! The furnace pulled 1.5 amp vs 9.6 on the old one and in humidifying mode only 0.7 amp. I work out in the morning and my wife could hear my iPad from the second story of our house. Before it was lout and noisy specifically at start up. We are happy we went with Guaranteed Comfort and Lennox! We can't wait to see the performance of the AC in the spring .

Yes, I recommend this product.
Eiche
Windsor Ontario
Age: 55 - 65
Gender: Male
Reason for Replacement: Planned
SLP 99
November 02, 2022
I have had this furnace installed a couple years now. I never hear it run and my gas bill is unbelievably low compared to my neighbors. Love Lennox!!

Yes, I recommend this product.
Ken D
Joliet, IL
Age: 45 to 54
Gender: Male
Reason for Replacement: Planned
High Satisfaction Rate
April 16, 2022
Beware of people with ulterior motives who are bashing this unit. A lot of dealers can't even get their hands on Lennox equipment (Lennox is selective in who they work with) and some will bash Lennox simply because it's something they can't get but that their competitor has. Make no mistake about it, Lennox is the best in the business. And I've been in front of hundreds of the SLP99Vs and it's VERY rare for someone to be dissatisfied with this unit. Most feel like it was a very rewarding purchase and love the benefits it provides.

Yes, I recommend this product.
Timbo10
Age: 25 to 34
Gender: Male
Reason for Replacement: Planned
Get answers from a Lennox® Dealer.
It's easy to find an expert Lennox Dealer who can help you make the most of your HVAC system.
View Now
Products that add to the performance of
SLP99V Variable-Capacity Gas Furnace
*

Based on sound pressure levels during steady-state, high-fire and low-fire operation of Lennox® SLP99UH070XV36B as of March 2020 at mid-point temperature rise and minimum external static pressure when set up per Section 4.4.4 of AHRI 260-2012. Based on AFUE efficiency rating of Lennox SLP99UH090XV60C and leading competitive units listed in AHRI directory as of December 2019. Efficiency ratings established per test standard ANSI/ASHRAE 103-1993.
Energy Star
Proper sizing and installation of equipment is critical to achieve optimal performance. Split system air conditioners and heat pumps (excluding ductless systems) must be matched with appropriate coil components to meet ENERGY STAR criteria. Ask your contractor for details or visit www.energystar.gov.