«

All

boilers
gsb8-e
Boiler
Standard efficiency, gas-fired steam boiler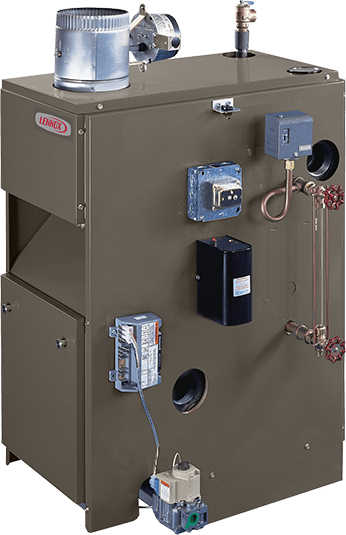 Warranty
12-Year Limited Warranty on Heat Exchanger; 5-Year Limited Warranty on covered components. This product may be eligible for 10-Year Limited Warranty coverage with product registration.
View Full Product Specifications
Heating Savings
Features
Worry-free performance
This boiler offer an efficiency rating of up to 82.7% AFUE, meaning it can deliver energy savings, compared to an older boiler. That means you can relax comfortably about your energy use. Up to 82.7% of fuel is converted into usable heat.
Smart design means reliable operation
An electronic ignition allows it to turn on only when heat is needed, and reduces the possibility for the flame to go out like a standard pilot light.
An automatic vent damper closes when the GSB8-E shuts off, preventing wasted heat.
Layers of thick fiberglass insulation minimize heat loss and on-off cycling.
Factory-installed safety switch protects against potentially dangerous low-water conditions.
Versatility that's always a perfect fit
This boiler works with your home's existing radiator or under-floor heating system.
Ratings & Reviews
See what other customers are saying about
GSB8-E Boiler
Startup takes a little getting use to.
January 13, 2022
A first my wife and I hated the manner in which this new Lennox boiler fired up. It was and still is load. But now we love this little boiler which produces heat faster and more evenly than ever before. The night before last it was -18 degrees outside and the boiler totally impressed us with plenty of heat. Also, it is one of very few boilers left which supplies domestic hot water, and you have PLENTY of it. A good mixing valve becomes essential. Lennox makes a great little cast iron boiler with a bit of a boom at start up, but you get use to it.

Yes, I recommend this product.
DAM1
Northern most Maine
Age: Over 65`
Gender: Male
Reason for Replacement: Planned
Get answers from a Lennox® Dealer.
It's easy to find an expert Lennox Dealer who can help you make the most of your HVAC system.
View Now
Resources
Glossary of terms
Annualized Fuel Utilization Efficiency (AFUE)

A measure of furnace heating efficiency. The higher the AFUE, the more efficient the furnace.
Learn More

Heat Exchanger

A heat exchanger is a heating component that is located in the furnace and transfers heat to the surrounding air, which is then pumped throughout the home.
Learn More

HVAC Damper

An HVAC damper (also called a duct damper) is a movable plate, located in the ductwork, that regulates airflow and redirects it to specific areas of the home. Dampers are typically used in zoning or "zone control" systems.
Learn More