«

All

thermostats
icomfort wi-fi
Touchscreen Thermostat
Monitor and adjust your home temperature from anywhere
Features
Compatible with your needs, and your system
When paired with premium Lennox® equipment, the iComfort Wi-Fi® holds the temperature of your home to within 0.5 degree of its setting. So you can enjoy a more comfortable and efficient home.

Know what's going on outside when you're inside
Thanks to its always-on connection to your home's wireless network, the iComfort Wi-Fi® displays a 5-day weather forecast and live weather alerts.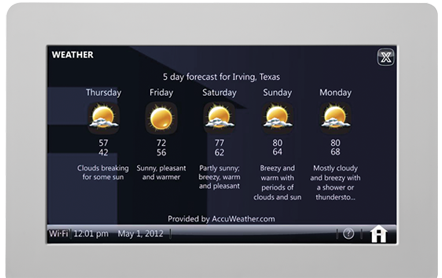 Energy savings with a touch
The iComfort Wi-Fi's one-touch Away Mode makes saving energy simple.
Leaving Home -

The thermostat will reduce system output and energy use with just a touch.




Return Home -

Touch the thermostat again when you get home, and it will restore normal heating and cooling schedules.



Perfect comfort, perfectly presented
The iComfort Wi-Fi® thermostat can make your home feel warm in more ways than one. It gives you the option of uploading a personal photo to use as a screensaver. Choose a family snapshot or a photo to complement your décor.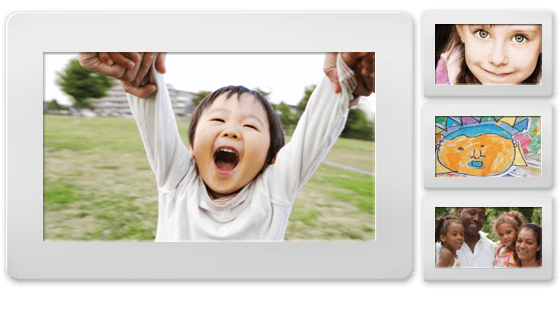 "I like the ability to program our heating and cooling from anywhere in the world. It also gives me current weather and adjusts the furnace's performance based on the weather. Pretty cool."

-mojo35, Brighton, Michigan
Already own an iComfort Wi-Fi® and have questions about your thermostat?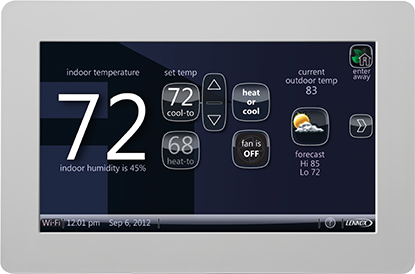 Ratings & Reviews
See what other customers are saying about
iComfort® Wi-Fi Touchscreen Thermostat
Best feature of my new HVAC System
November 16, 2012
The iComfort Wi-Fi touchscreen is really a great feature. Setting the heating/ac scheduling comes with easy controls. With our busy schedules I can easily change the settings when our schedules change. Why heat the house when we are not there?? I can easily change the settings from my smartphone. I would recommend this product to anyone that is installing any new HVAC system or even add it to your existing system. I am truly amazed at the features and capabilities.

Yes, I recommend this product.
RMWild
Milwaukee, WI
Age: 35 to 44
Gender: Male
Reason for Replacement: Planned
5G Gateway not compatible with WiFi
July 02, 2022
Have been using the 10F81 Lennox iComfort Wi-Fi for 9+ years now with Comcast cable, which utilized a separate router and modem. Switched to Verizon 5G Wi-Fi which uses a single gateway device which is not compatible with this Lennox device. The dealer came out and tried everything (as did I). Without the Wi-Fi connection, we now only get the basic thermostat functionality and the time. We do not get outside weather, which was nice. Whenever it's time to purchase a new one, I'll take that into pricing/value consideration.
Melissa60515
Downers Grove, IL
Age: 45 to 54
Gender: Female
Poor WiFi app.
June 16, 2022
After reading all the reviews I will not use the WiFi feature of the system.
Pablo
Las Vegas Nevada
Age: Over 65`
Gender: Male
Reason for Replacement: Planned
Get answers from a Lennox® Dealer.
It's easy to find an expert Lennox Dealer who can help you make the most of your HVAC system.
View Now