Spring has already sprung—but it's not too late to get your lawn ready for a season filled with cookouts, backyard games and stargazing on a blanket in the grass. With just a little work, you can transform your great outdoors into an extension of the comfort of your home. To help you get your property into shape, here are a few springtime lawn care tips.
Spring Cleaning
The first thing you can do for your lawn is to clear out the cobwebs. Start with a light raking to pull up any sticks and dead grass. Along the way, make sure to pull up any weeds you come across. Then, to ensure water and nutrients can reach the roots of your grass, use an aerator to loosen your soil and avoid compaction.
If you want to take that extra step, you can also take note of how water moves over your property when those April showers fall. Regrading uneven ground can help avoid poor drainage and multiple problems caused by standing water.
Where the Green Grass Grows
After clearing, pulling and patching, your grass will be thin in some places and downright bald in others. Planting new grass and fertilizing properly will be key in filling out your lawn. Having your soil tested and choosing the right seed for your particular property and local climate will help determine the success of your new growth. Soil tests can be found through the USDA or local government branches of the Natural Resources Conservation Service. These tests are often provided free of charge.
After spreading the seed (by hand or with a spreader), make sure to maintain soil moisture through regular watering. Additionally, placing straw on top of the newly seeded areas will help retain moisture and heat should a spring cold snap strike.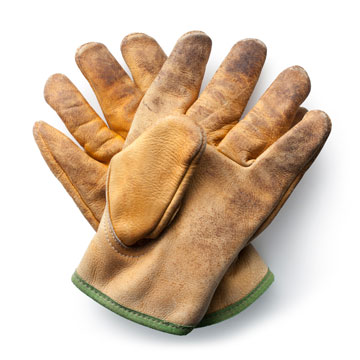 Lastly, fertilizers and herbicides can have a tremendous positive impact on lawn growth while helping to control unwanted weeds that choke out new grass. But before you apply any chemicals, make sure you understand the possible personal impact any ingredients may have on you, your family, or your pets.
Mowing your lawn
Once all that new grass starts growing, it will be time to crank up the lawn mower. Before cutting the grass, it's good to look over the mechanics of your mower—after all, there are a lot of moving parts in an engine, and it will have been sitting idle in the cold for months.
Once you've given your mower a tune-up, it's time to get cutting. Be sure to set your mower to the correct height given the kind of grass you planted (this information is usually provided with the seed you purchase). Cutting your lawn too short could damage the grass and promote weed growth.
HVA-See
Other than your mower, the most visible piece of machinery on your property is likely your air conditioner. As you are landscaping, it's a great time to also perform some HVAC equipment maintenance. To ensure optimal performance, make sure to trim shrubs, bushes, or branches back to at least 18 inches of clearance around your outdoor unit. Also, clearing away any grass clippings, leaves, foliage and other debris will prevent possible airflow obstructions. Finally, double check to make sure your HVAC unit is resting level on its concrete pad.
Additionally, if your unit is not already obstructed from view, there are many different plants that can help your HVAC blend into your landscaping more seamlessly. If maintaining the pruning of plants around an outdoor air conditioner seems like a daunting task, you can always build a decorative, gated enclosure to hide it from view.
Ready for Summer
Spring is a time to throw open the windows and shutters, and breathe deeply as we air out our homes after a cooped-up winter. But summer heats up quickly, and it won't be long before you need to close those windows again and crank up the AC. Before you do, it's important preventive maintenance to set an appointment with a Lennox Dealer to ensure your system is ready for summer. Contact your local Lennox Dealer today.