Change Lives in your community with Feel the Love!
We are excited to announce the Feel the Love program is back and nominations are now open!
Feel the Love was launched in 2009 as a local sales initiative to support deserving families and individuals who would benefit from newly installed heating equipment at no cost. Since then, over 10.5 million dollars in product has been donated and over 2,000 installations have been completed free of charge as the program spread across North America, changing the lives of countless individuals in the process.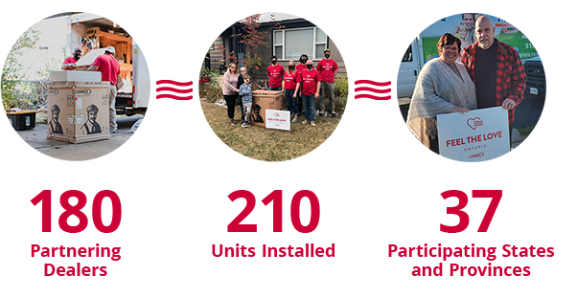 After a record breaking year with over 200 installations, our Lennox dealers are thrilled to partner with you again as we honor unsung heroes across the United States and Canada with peace of mind and perfect air through our annual Feel the Love program. "We, along with our dealers, are committed to providing consistently clean, perfect air to our local heroes who continuously put the well-being of others before their own." said Quan Nguyen, VP & General Manager at Lennox Industries.
How does it work?
The Feel The Love program is made possible through individuals like you who nominate recipients and the ongoing partnership with our Lennox dealers. Lennox partners with local dealers to provide the best product for each recipient. Every donated unit comes complete with an extended warranty and Feel The Love dealers donate their time and labor to complete the installation and make the program a success. Recipients also have a long-term impact to the environment and energy bills, as recipients' energy usage can be reduced by approximately 30% to 40%.
Who can I nominate?
The Feel the Love program aims to assist people in need of that helping hand and who deserve a "thank you" for their commitment to service, whether in our military or within their community or family. Previous recipients have included local heroes, veterans, community leaders and resilient families who've been facing hardship and struggled to safely heat or cool their homes.
For tips on who to nominate, see our guidelines.
How to Nominate?
Are you ready to help change the lives of deserving individuals in your community? Visit feelthelove.com and complete the online nomination form. The last day to nominate your unsung hero is August 31, 2023.
What to Expect?

After nominations close in August, recipients are finalized and contacted by participating dealers. During the second week in October, Lennox works with our partner dealers to give back to these selected heroes by gifting them with a much-needed upgrade from our Merit Series – our line of products that sets the Lennox® standard of excellence.
In the meantime, read more about last year's recipients on our Feel the Love Facebook page.