Lennox and 180 dealer partners installed 210 HVAC units as part of the annual Feel The Love community program.

The Lennox Feel the Love Community Program
Giving the gift of perfect air to unsung Heroes
210 deserving families can breathe a little easier and enjoy the gift of perfect air thanks to the Lennox annual Feel The Love program. This year, Lennox partnered with a record number of dealers North America to install new heating or cooling systems to homeowners in need throughout the second week of October. This year's recipients included local heroes, veterans, community leaders and resilient families who've been facing hardship and struggled to safely heat or cool their homes. More than 1,000 deserving homeowners were nominated during this milestone year, marking the highest number of nominations received in the program's history.
Since Feel The Love was founded in 2009, the program has installed more than 1,700 heating and cooling systems at no-charge to homeowners in need. Every unit donated by Lennox comes complete with 3-year Comfort Shield Labor Protection Plans, and Feel The Love participating dealers donate their time and labor to make the program a success. The new high-efficiency heating and cooling equipment donated through Feel The Love will not only have an immediate benefit of comfort but will also have a long term impact to the environment and energy bills, as recipients' energy usage can be reduced by approximately 30% to 40%.
Keep reading to learn more about a few of this year's recipients and visit FeelThe Love.com to learn more and submit a nomination for next year's Installation Week.
Cynthia Sumpter | Detroit, Michigan
Imagine spending your summer constantly under a ceiling fan, searching for relief from the relentless summer heat. This was the uncomfortable reality for Cynthia Sumpter and her family over the past year as they struggled to cool and heat their home. Cynthia and her sister are senior citizens who not only support their community but also care for their elderly mother and aunt. Thanks to Air Master Holdings and a new furnace from Lennox, Cynthia and her family will be able enjoy the comforts of clean, comfortable air this upcoming winter and when warm temperatures return next summer.

The Varacalli Family | Windsor, Ontario
The Varacalli family's world turned upside down when their young daughter, Mia, was diagnosed with a rare genetic disorder called Glanzmann Thrombasthenia (GT) right before Christmas in 2020. This rare blood clotting disorder currently has no cure, and Mia has had more than 20 visits to the ER and countless hospital stays and admissions in her short life, most of which require a trip to a hospital in London, Ontario, to work with a specialized team. The costs of these stays, plus all of the stress and challenges from navigating Mia's illness has taken a toll on their family, and if that wasn't enough, their air conditioner stopped working this summer. The warm temperatures can negatively impact Mia's condition, so her grandparents nominated the family for Feel The Love. Thanks to Fahrhall Mechanical Contractors and a new air conditioner from Lennox, Mia's family will have peace of mind knowing they have one less thing to worry about and can focus on keeping their daughter healthy.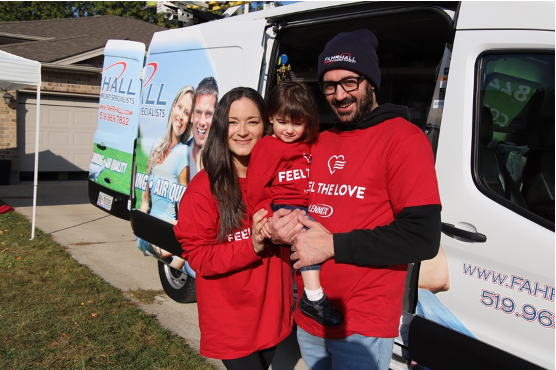 Gloria Juston & Abel Gonzalez | Cottage Grove, Wisconsin
Gloria and her husband Abel dreamed of owning their own home for their family and were determined to make it happen. In January 2022, they completed the Building Black Wealth Education and Homeownership Course, which enabled them to apply and receive a down payment grant from One City Schools. After growing up in rental homes, they are now first-generation homeowners. Upon inspection of their home though, they quickly learned the furnace needed to be replaced. Their family was recognized for their hard work and ambition and they were nominated for this year's Feel The Love program. Thanks to All Comfort Services and a new furnace from Lennox, Gloria, Abel and their four children will be able to enjoy their new home and stay warm for many cold Wisconsin winters to come.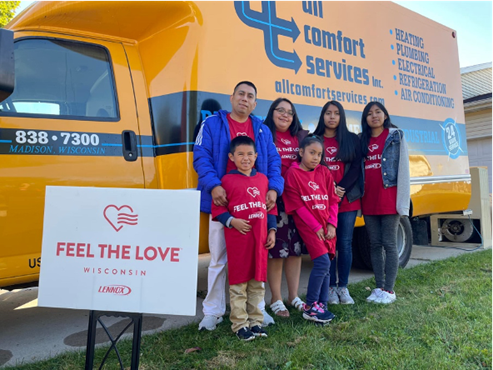 It's never too early to submit a nomination for next year's program. Help us make 2023 another monumental year for Feel The Love and visit feelthelove.com to learn more and submit a nomination.