At Lennox, we're focused on one thing, and that's using innovation to keep people comfortable. This focus has guided our approach to product development for more than 125 years. More recently, it's also been the driving force behind the redesign of our Lennox.com residential website.
---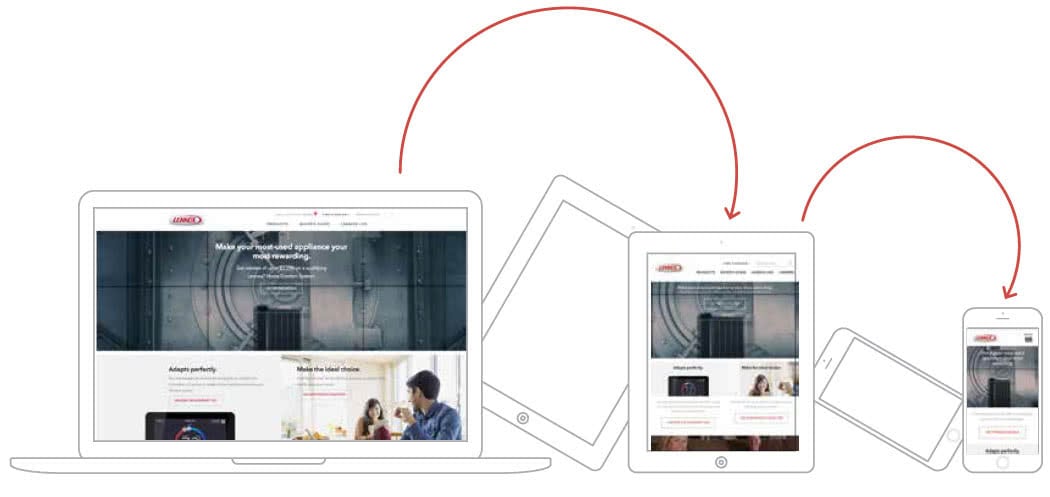 Completely revamped website offers a more comfortable web experience
A primary goal of the new site was to give visitors a single, consistent and seamless web experience, across all digital devices. So whether you access the new site with a laptop, tablet or mobile phone, you'll see it's easier than ever to find:
The products you need
The information you want
A Lennox Dealer near you
Getting to our goal meant reformatting the sites' pages, but the changes went far beyond "look and feel." To make the site more engaging and easier to use, we streamlined the navigation, simplified and updated all the product information, and added more videos and animations.
The new Lennox.com is more than a website. It's also a community.
Completely new to our Lennox.com website, the "Lennox Life" section houses lifestyle and social content in a centralized hub that's a lot like a newsfeed on a social platform. Tweets, customer stories and Comfort Matters blog articles get pulled into a grid page that's continually updated.
If you're a Lennox owner, you'll find the dedicated support you deserve.
Among the features you'll find in the new "Owners" section are:
Owners-specific FAQs, with search filters that allow you to sort by category
Forms to register and review your Lennox products
Information on replacement parts and filters
Downloadable owners' manuals
Product maintenance tips
Resources for claiming energy-efficiency tax credits
Every page and every piece of content is designed to make you feel really good about Lennox.
The "About" section of the website tells the Lennox brand story in compelling detail. You can find information on everything from the earliest Lennox products to our latest advertising campaign. Customer reviews help you feel better about your purchasing decisions.
Get comfortable using the new Lennox.com, starting right now. Visit our website.